I may earn a commission for purchases made through my links. It helps me run this site. Check out my disclosure for more details.
When it comes to the realm of portable power solutions, Jackery's contribution to the industry cannot be overlooked. Born in 2012, Jackery has since been dedicated to the development of green energy solutions, providing reliable portable power solutions with a focus on outdoor scenarios. Pioneering lithium portable power stations in the industry, one of their celebrated offerings is the Jackery Explorer 300 (E300) – a compact, user-friendly, and good all round mini power station.
Feature
Specification
Battery Capacity
293Wh (20.4Ah, 14.4V) 300W Inverter 500W PEAK SURGE
Dimensions
9.1 x 5.2 x 7.8 inches
Weight
7.1 lbs
Output Ports
1x AC Outlet (110V, 300W)
1x DC Car Port (12V, 10A)
2x USB-A Ports (5V, 2.4A) (1x Quick Charge 3.0 port)
1x USB-C Port (5V, 3A)
Charge Methods
AC Outlet, Car Charger, Solar Panel
Full Recharge Time
AC Charging : 4.5 hours* Solar Charging : 5-8 hours (100W SolarSaga) Car Charging : 5.5 hours
*Can be charged in 2.5 hours with AC + 60W USB-C PD Charger combo
Life Cycles
≥500 cycles to 80%
Management System
BMS, Over Voltage Protection, Short Circuit Protection
Operating Noise Levels
36.4dB
Operating Usage Temperature
14-104°F (-10-40°C)
Certification
FCC, ROHS, UN38.3
Jackery E300 Closer Look
The Jackery E300 is a compact and lightweight power station, offering an impressive 293Wh (20.4Ah, 14.4V) lithium battery capacity. Despite its smaller size, measuring 9.1 x 5.2 x 7.8 inches and weighing 7.1 pounds, it doesn't skimp on power or features.
The E300 sports a comprehensive suite of output options, including two USB-A ports, one Quick Charge 3.0 port, one USB-C port, a pure sine wave AC outlet, and a 12V car output. This range of ports ensures that the E300 can power a diverse array of electronic devices from smartphones, tablets, laptops, and even some smaller appliances.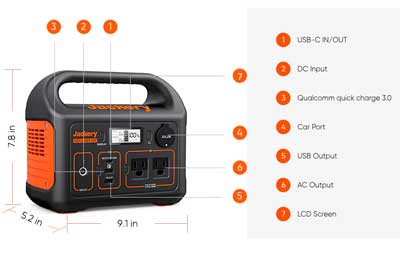 The LCD screen provides useful information about the status of the power station, such as charge/discharge data and battery life status. Equipped with an integrated solid handle, the E300 ensures convenient transportability.
Jackery Explorer 300 Device and Appliance Run Times
| Device | Power Consumption (W) | Approximate Run Time |
| --- | --- | --- |
| 60W Television | 60W | 3 hours |
| 5W Desk Fan | 5W | 42 hours |
| 70W Mini Fridge | 70W | 3 hours |
| Smartphone | 12W | Can be charged 17 times |
| Tablet | 30W | Can be charged 7 times |
| Laptop | 60W | Can be charged 3.5 times |
The Jackery E300's battery life can vary significantly depending on the power requirement of the devices being charged. According to Jackery, the E300 can power a 60W television for nearly 3 hours, a 5W desk fan for 42 hours, and a 70W mini fridge for approximately 3 hours.
Who Would the Jackery E300 Suit?
| Scenario | Power Needs |
| --- | --- |
| Outdoor Trips/Events | Lanterns, cameras, drones, and smartphones |
| Emergency Situations | Essential devices like lights, fans, and mobile phones |
| Remote Workers | Laptops, tablets, and phones |
| Festival-goers | Sound systems, lights, and mobile devices |
The Jackery E300's design and functionality make it an ideal power station for:
Outdoor Adventurers: With its compact size, the E300 is easy to carry along on camping trips, hiking, or picnics. It can power lanterns, charge cameras, drones, and smartphones, making it an ideal camping buddy.
Emergency Preparedness: In the event of a power outage, the E300 can power essential devices like lights, fans, and mobile phones, providing safety and comfort.
Remote Workers: For digital nomads or remote workers, the E300 can keep laptops, tablets, and phones powered up, ensuring that work can continue uninterrupted.
Festival-goers: At outdoor festivals, the E300 can keep the party going by powering sound systems, lights, and even your mobile devices.
What Do Customers Say About It?
Examining the Amazon reviews, it's clear that the Jackery E300 is well-loved by its users. Customers appreciate the power station's portability, with many noting that it's perfect for camping trips. The E300's ability to charge multiple devices simultaneously was also a favorite feature among reviewers.
A few customers, however, mentioned the limited battery life when running more power-hungry devices like mini fridges or large televisions. Nevertheless, the majority of users were satisfied with the performance of the E300 and appreciated its versatility and ease of use.
Jackery Explorer 300 FAQs
Is the Jackery E300 waterproof? The E300 is not waterproof and should be kept in dry environments away from moisture.
How long does it take to fully charge the Jackery E300? The E300 can be fully charged in 2.5 -4.5 hours from an AC wall outlet, and 5-8 hours via 100W SolarSaga under ideal sunlight conditions, and 5.5 hours with a car charger.
Can the E300 be charged while it's being used? Yes, the E300 supports pass-through charging, meaning it can be charged while it powers other devices.
Can the E300 power a refrigerator? The E300 can power a small, energy-efficient mini fridge that consumes less than 70W.
What is the lifespan of the E300's battery? The E300's battery has a life expectancy of 500 cycles to 80% capacity.
What type of battery does the E300 use? The E300 uses a lithium-ion battery.
Is the battery in the E300 replaceable? The battery in the E300 is not user-replaceable.
Can the E300 be taken on an airplane? No, the E300 cannot be taken on an airplane due to FAA regulations regarding lithium batteries.
Does the E300 support solar charging? Yes, the E300 supports solar charging with compatible Jackery SolarSaga solar panels.
Can the E300 power a CPAP machine? Yes, but the exact run time will depend on the power requirements of the specific CPAP machine.
The only drawback in the E300's arsenal is that it is fine for low powered electronics and devices, a single charge will get you thorough a full weekend without much of a hitch. But if you have to power appliances it won't even switch on if you plug anything into it over 300 watts. Or if you use both AC sockets and the combined total pushes past 300 watts its going to go into auto shutdown model.
This may or may not be a deal breaker but there is no flashlight on the E300. A Flashlight can be rel handy on camping trips or during a power outage.
If you need something that operates at a higher wattage you have to look at the Jackery 500. It is though twice the price.
Jackery E300 Conclusion
The Jackery Explorer 300 is an exceptional power station, that packs a punch for its size. Despite its compact design, it delivers reliable power for a variety of devices, making it an excellent choice for a wide range of needs. Whether you're a regular off-grid traveler, a remote worker, or just someone seeking a reliable backup power source, the Jackery E300 offers a good mix of size and power.
Be sure to check up on the rest of Jackerys offering in our Jackery Solar Generators article here.