I may earn a commission for purchases made through my links. It helps me run this site. Check out my disclosure for more details.
Preface –This article is long, but stick with it and you'll find the best solar generator for RV tours. You'll find it's tailor made for YOUR needs.
If you're like me, an avid RV enthusiast who appreciates the freedom and flexibility of off-grid adventures, then you'll agree that a reliable power source is crucial. Solar generators have emerged as an eco-friendly, quiet, and versatile solution for powering your RV when you're far from the grid.
But, with so many options from Jackery, EcoFlow, Bluetti and less established yet great brands available, how do you choose the right solar generator for touring with your RV? That's exactly what we'll explore in this article! Before getting into that here's some intel on these sun storing devices.
An RV solar generator is a portable power supply system that uses solar panels to generate electricity for use in recreational vehicles. It typically includes a solar panel, battery, and inverter. But how exactly does it work?
It works works by using solar panels to convert sunlight into electricity. This electricity is then stored in a battery and can be used to power various devices and appliances in your RV.
Here's what Bluetti have to say about choosing a solar panel for an RV –
Needs to be portable – easy to carry
The battery capacity should be over 2000 charge cycles
Must fully charge in less than 6 hours – this is key if you are on the road for longer trips
have lithium-ion fast charging, long life, light batteries
Needs a pure sine wave high watt inverter
Has attachable PV panels
I'm pretty much in agreement with all of this, so one thing I'd like to add is If you have a lot of devices and a lot of people on your road trips you may want to get 2 mid small generators so you can plug in multiple devices and appliances. Or if you are parked up or if you're constantly travelling like a Wilbury and have extra room in your RV more solar panels will certainly help.
Important question alert – Can an RV solar generator power all the appliances in my RV?
The ability of a RV solar generator to power all appliances in an RV depends on its size and the power requirements of the appliances. Smaller generators like the Jackery 500 may not be able to handle high-energy appliances like air conditioners or microwaves.
If you like an occasional one day camping exhibition every now and again you can get away with a small rig, if it's for the use of a day, but if you are powering a lot of heavy equipment for several days on end you'll need a bigger rig, and maybe a bigger RV to store the panels! But you can get away with going super light like the 83 Wh unit from Takki. It can keep small devices and lights going for a short trip and has a fast 30w PD port for Usb C compatible devices. It can charge an iPhone 12 to 75% capacity in as little as 30 minutes.
The Importance of a Solar Generators for RV Adventures
Solar generators provide a reliable source of power while ensuring we leave the smallest possible footprint on our beautiful planet. They are ideal for powering essential electronics in your RV, from your fridge to your phone, and even your air conditioning unit. They offer the convenience of fuel-less operation, the silence that beats traditional generators, and the peace of mind knowing you're harnessing the renewable power of the sun.
Top Solar Generators for RV
Let's dive into the specifics and compare some of the top solar generators suitable for RV use.
1. Jackery Portable Power Station Explorer 1000
A portable powerhouse with a balance of high capacity and lightweight design, perfect for those needing power on the go.
Key Features
Power Capacity: 1002Wh
Ports: 4x USB, 1x AC, 2x DC
Dimensions: 13.1 x 9.2 x 11.1 in
Weight: 22 lbs
Special Features: Pure Sine Wave Inverter, Solar and AC charging
Pros and Cons
The Jackery Explorer 1000 offers a great blend of power and portability. It's capable of running high powered multiple devices, simultaneously of course, thanks to the 1002Wh capacity and multiple ports. The pure sine wave inverter ensures your sensitive electronics are safe.
However, it's a bit on the pricier side, and the charging time can be long if the battery is fully depleted. It takes 8 hours if you have 2 x SolarSaga 100W Solar Panels, and 8 hours with AC grid power.
It won't run an air conditioner or hair dryer for long so you'll have to go for a higher capacity generator like the 1500 or 2000 Pro if that's what you need. Theres also a Pro version of the 1000 reviewed here which provides faster charging and a longer battery life.
| | |
| --- | --- |
| Features | Jackery Explorer 1000 |
| Power Capacity | 1002Wh |
| Ports | 3x USB, 1x AC, 2x DC |
| Dimensions | 13.1 x 9.2 x 11.1 in |
| Weight | 22 lbs |
| Charging | Solar and AC |
| Special Features | Pure Sine Wave Inverter |
Here's a handy visual from Jackery that gives a basic breakdown of what you can expect to run from their generators.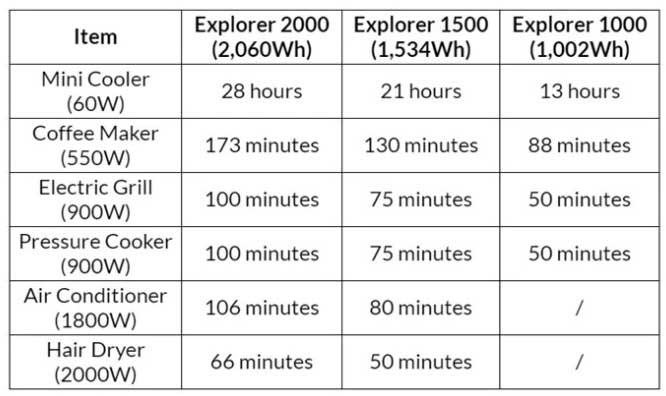 2. Goal Zero Yeti 1000 Lithium Portable Power Station
Combines impressive power capacity with smart features like Wi-Fi connectivity, making it a technologically advanced option for power users.
Key Features
Power Capacity: 1045Wh
Ports: 4x USB, 2x AC, 2x DC
Dimensions: 15.3 x 10.1 x 9.3 in
Weight: 40 lbs
Special Features: Wi-Fi Connectivity, Ultra-fast charging
Pros and Cons
The Goal Zero Yeti 1000 is another formidable contender. It boasts a slightly higher power capacity than the Jackery model and offers Wi-Fi connectivity, allowing you to control it remotely. The ultra-fast charging feature is a significant plus. However, it's substantially heavier than the Jackery, which could be a concern for those who prioritize portability.
| | |
| --- | --- |
| Features | Goal Zero Yeti 1000 |
| Power Capacity | 1045Wh |
| Ports | 4x USB, 2x AC, 2x DC |
| Dimensions | 15.3 x 10.1 x 9.3 in |
| Weight | 40 lbs |
| Charging | Solar and AC |
| Special Features | Wi-Fi Connectivity, Ultra-fast charging |
3. ECOFLOW Portable Power Station EFDELTA
Key Features
A high-capacity generator with the fastest recharge rate, offering versatility with multiple charging options, including solar, AC, and car charging.
Power Capacity: 1260Wh
Ports: 6x USB, 6x AC, 2x DC
Dimensions: 15.7 x 8.3 x 10.6 in
Weight: 30.9 lbs
Special Features: Fastest Recharge Rate, Solar and Car charging
Pros and Cons
The ECOFLOW EFDELTA stands out with its impressive power capacity and fast recharge rate. With 6 AC outlets and 6 USB ports, it can power multiple devices concurrently. It also offers versatility with solar, AC, and car charging options. However, it's heavier than both Jackery and Goal Zero models, which might be a downside for some.
| | |
| --- | --- |
| Features | ECOFLOW EFDELTA |
| Power Capacity | 1260Wh |
| Ports | 6x USB, 6x AC, 2x DC |
| Dimensions | 15.7 x 8.3 x 10.6 in |
| Weight | 30.9 lbs |
| Charging | Solar, AC, and Car |
| Special Features | Fastest Recharge Rate |
4. BLUETTI AC200P Portable Power Station
The ultimate powerhouse with the highest power capacity, wireless charging, and an LCD screen, though it comes with a higher weight and price tag.
Key Features
Power Capacity: 2000Wh
Ports: 4x USB, 6x AC, 1x DC, 1x USB-C
Dimensions: 16.5 x 11 x 15.2 in
Weight: 60.6 lbs
Special Features: Wireless charging, LCD screen
Pros and Cons
The BLUETTI AC200P packs a whopping 2000Wh capacity, making it the powerhouse in this lineup. It also boasts a range of ports including a USB-C and wireless charging. On the flip side, it's the heaviest and the bulkiest of the lot, and it also comes with a hefty price tag.
5. AIMTOM Portable Solar Generator
The lightweight champion, offering portability above all, but with a lower power capacity.
Key Features
Power Capacity: 540Wh
Ports: 3x USB, 2x AC, 3x DC
Dimensions: 7.6 x 6.7 x 11.4 in
Weight: 11 lbs
Special Features: Ultra-lightweight, LED flashlight
Pros and Cons
The AIMTOM generator is the lightweight champion, weighing a mere 11 lbs. It's perfect for those who value portability above all. However, its power capacity is on the lower end, and it lacks some of the advanced features found in higher-end models.
6. Baldr Portable Power Station
A compact and portable option with a built-in flashlight, ideal for outdoor scenarios where power needs are moderate.
Key Features
Power Capacity: 330Wh
Ports: 3x USB, 2x AC, 3x DC
Dimensions: 11.6 x 8.27 x 7.68 in
Weight: 7.1 lbs
Special Features: Compact design, built-in flashlight
Pros and Cons
The Baldr Portable Power Station is another portable option with a compact design. It has a lower power capacity but offers a good variety of ports. Its built-in flashlight can be handy in outdoor scenarios.
7. NEXPOW Portable Power Station
An ultra-compact and affordable choice with decent power capacity, designed for budget-conscious travelers.
Key Features
Power Capacity: 480Wh
Ports: 4x USB, 2x AC, 2x DC
Dimensions: 8.9 x 3.1 x 4.1 in
Weight: 3.5 lbs
Special Features: Ultra-compact, affordable
Pros and Cons
The NEXPOW Portable Power Station offers an ultra-compact size and an affordable price tag. However, its power capacity is on the lower side.
8. Rockpals 500W Portable Power Station
A budget-friendly option with a decent power capacity and a pure sine wave inverter, offering good value for money.
Key Features
Power Capacity: 540Wh
Ports: 3x USB, 2x AC, 4x DC
Dimensions: 12.05 x 9.05 x 6.93 in
Weight: 12.13 lbs
Special Features: Pure sine wave inverter, budget-friendly
Pros and Cons
The Rockpals 500W is a budget-friendly option that offers a decent power capacity and a pure sine wave inverter. However, its design is not as robust as some of the other options.
9. MAXOAK Bluetti EB150
A high-capacity, feature-rich generator with an LCD screen, suitable for those looking for power and advanced features in a robust package.
Key Features
Power Capacity: 1500Wh
Ports: 4x USB, 2x AC, 1x DC, 1x USB-C
Dimensions: 14.6 x 6.5 x 14.4 in
Weight: 37.9 lbs
Special Features: High power capacity, LCD screen
Pros and Cons
The MAXOAK Bluetti EB150 stands out with its high power capacity and useful LCD screen. However, it is relatively heavy and more expensive than some other options.
10. SUAOKI Portable Power Station
A budget-friendly, compact generator with decent power capacity, designed for those who need portable power on a budget.
Key Features
Power Capacity: 500Wh
Ports: 4x USB, 2x AC, 3x DC
Dimensions: 11.42 x 7.68 x 7.56 in
Weight: 13.67 lbs
Special Features: Compact, budget-friendly
Pros and Cons
The SUAOKI Power Station is a budget-friendly, compact choice with a decent power capacity. However, it may not be as durable as some of the other options.
Comparison of All Solar Generators for RV
Now let's compare all ten solar generators side by side.
Power Capacities
In terms of power capacity, the BLUETTI AC200P takes the lead with 2000Wh, followed by the MAXOAK Bluetti EB150 with 1500Wh. The ECOFLOW EFDELTA, Goal Zero Yeti 1000, and Jackery Explorer 1000 offer mid-range capacities. The AIMTOM, Rockpals 500W, NEXPOW, and SUAOKI models have the lowest capacities.
Charging Capabilities
All ten solar generators offer solar and AC charging options. The ECOFLOW EFDELTA stands out with the additional car charging option.
Weight and Portability
The NEXPOW Portable Power Station is the lightest and most compact, followed closely by the AIMTOM Portable Solar Generator. On the other end of the spectrum, the BLUETTI AC200P is the heaviest and largest.
Additional Features
Unique features like wireless charging and an LCD screen make the BLUETTI AC200P a standout. The MAXOAK Bluetti EB150 also offers an LCD screen. The AIMTOM and Baldr models feature built-in flashlights, handy for outdoor scenarios.
Decision Time
Choosing the best solar generator for your RV depends on your specific needs. If power capacity is your top priority, the BLUETTI AC200P or the MAXOAK Bluetti EB150 might be your best bet. For those prioritizing portability and lightweight design, the NEXPOW or AIMTOM models would be ideal. For a balance of power, portability, and price, the ECOFLOW EFDELTA, Goal Zero Yeti 1000, or the Jackery Explorer 1000 could be the perfect fit.
Remember, there's no one-size-fits-all solution. It's about finding the solar generator that best matches your RV lifestyle. Happy camping!
Frequently Asked Questions
1. Can a solar generator power an entire RV?
Yes, and no, and mainly no, depending on the capacity of the solar generator and the power requirements of the RV. solar generators are good for powering your portable devices inside your RV. If you are going to use it as the main power source you are going to need a lot of panels, and you'll need access to AC power if you want to recharge it again without waiting for a day or more for it to recharge. More on this below the FAQs.
2. How long do solar generators last?
This is usually measured in battery cycles, i.e., how many times it can be discharged and recharged. The exact number varies depending on the battery chemistry, but it can be anywhere from less than 1,000 to over 3,000 cycles. This varies by model and usage, but most solar generators can last several years with proper maintenance.
3. Can I charge my solar generator while it's powering devices?
Yes, most solar generators support pass-through charging, which allows you to charge the generator while it's powering devices.
4. What's the difference between a solar generator and a traditional generator?
Solar generators use solar energy stored in a battery, while traditional generators run on fuel like gasoline or propane.
5. Are solar generators safe to use inside an RV?
Yes, solar generators do not emit fumes like gas-powered generators, so they're safe to use inside an RV. Always ensure there's adequate ventilation, though, to avoid overheating.
6. How do I maintain my solar generator?
Maintain your solar generator by keeping it clean, storing it in a cool, dry place, and ensuring it's charged at least every 3-6 months.
7. How long does it take to charge a solar generator?
Charging time varies based on the size of the solar panel and the capacity of the generator. Typically, it can take anywhere from a few hours to a full day of sunlight.
8. What devices can I power with my solar generator?
You can power a range of devices with your solar generator, from small electronics like smartphones and laptops to larger appliances like refrigerators and televisions. However, the specific devices you can power will depend on the power capacity of your solar generator.
9. Can I use my solar generator while it's charging?
Yes, most solar generators offer pass-through charging, which means you can use them to power devices while they're being charged.
10. Does weather affect my solar generator's performance?
Yes, the efficiency of solar panels decreases with temperature increases. Additionally, overcast, rainy, or snowy weather can affect the amount of sunlight your solar panels receive, thereby impacting their performance. It's always best to place your solar panels in a location where they'll receive maximum sunlight.
Why Fast Recharge Times Are Essential
It comes to the basics of supply and demand – If your solar generator is the main power source to run and charge many of your RV devices (including your own add-ons – phones, tablets, watches, speakers, mini fridges…), then a fast recharge time is absolutely essential. It may be the highest priority on your best stats list.
So you have to work with the available sunlight and that equates to maybe only your solar panel running on full capacity for about 6 hours a day. Or less if you are in a cooler state. The only other solution is to park your RV up and plug into the grid for a while, but this isn't always possible.
When you're on the road you're relying on the amenities at camp sites or the generosity of the townsfolk. But to give yourself the best chance a generator equipped with lithium-ion technology will recharge the fastest. Plus you could also but 2 gennies, and charge both up before you head off on your exhibition.
When it comes to power the massive 2160 Wh 2000 Pro from Jackery charges in 7.5 hours with 2 x200W solar panels. With 6 solar panels this drops to 2.5 hours, but the price surmounts. As does the size. Each panel measures 60x30x40 inches, so it' more of a home generator. It's not exactly at snip either at just over $6k.
If This Is Your First Adventure With Solar Generators Here's A Recap To Help With Your Buying Decision
The main thing I look at first in a solar generator is the power stations battery size, the capacity has to be adequate to support all my needs. especially when I'm out on the road. I don't want to be constantly charging it and running out of power when i need it most.
Although size isn't everything, lol. A larger unit will take much longer to charge, and it is highly dependent on the available sunlight. A high-capacity battery that has a high wattage rating will run more appliances and power more hungry electrical devices like hairdryers and coffee machines. But the quality and design of the battery and it's chemistry are just as important.
LiFeP04 (lithium) batteries have a longer service life and can be charged quicker than standard batteries like lead acid. You can get away with smaller capacity power stations as they will take much quicker to charge. They might even work out better for your truck or RV space wise, as less powerful power stations will be smaller and easier to store.
Take a look at what you need to power up, make note of the essential devices you need to run the most, and how often you need to power and use the rest of your devices. If you can get a few hours of sun per day, or you can use the cigarette lighter in your auto, you may be able to get away with a fast charging 1000-2000 watt hour solar generator.
You may have come across the term 'pass-through charging' in your research. This feature lets your generator charge and power devices simultaneously, acting as a continuous power source. However, not all solar generators support this feature, and some claim it could potentially shorten battery life. So, it's worth pondering over.
Let's also talk about expandability. Some solar generators allow you to add more battery power or increase your solar recharging capability. How cool is that? You can start with a smaller solar panel and then upgrade as needed.
Solar generators are silent operators compared to their gas-powered counterparts. They may produce a bit of noise from cooling fans, but it's minimal. But can they run an RV air conditioner? It's possible, but not practical in most cases due to the high power demand of air conditioners.
But remember, each solar generator is unique. Some have features like pass-through charging, which allows you to use and charge the generator at the same time, and some don't. Other generators offer expandability, allowing you to upgrade your power capacity without buying a new generator. There are other models that have a wide range of power outlets, catering to different devices.
Now, let's address a common question, Can you plug your RV directly into a solar generator? The answer is yes, as long as the generator's inverter can provide the required power. But keep in mind that it might not be capable of powering high-demand appliances like air conditioners. For these, it might be more practical to plug in specific devices rather than the entire RV.
Choosing the right size solar generator depends on your daily power usage. Here's a little homework for you: Figure out your daily watt-hour or amp-hour usage, and you'll get a better idea of what size generator you need. But if budget and space aren't a constraint, opting for the largest capacity might save you some math and future headaches!
Nerdy Tech Stats
If you must know the entire ins and outs of how solar generators work this is for you. If not go home and take your RV for a drive and enjoy having less stats in your brain.
Solar Panels Solar panels are made up of photovoltaic cells that convert sunlight into electricity. The most common types of solar panels are monocrystalline and polycrystalline. Monocrystalline panels are more efficient and expensive, while polycrystalline panels are less efficient and cheaper. The power capacity of solar panels is measured in watts. More watts mean more electricity can be generated.
Battery
The battery stores the electricity generated by the solar panels. There are several types of batteries used in solar generators:
Lithium-ion – The most common type in solar generators, lithium-ion batteries are lighter and have a longer lifespan than lead-acid batteries. They're also more efficient, fast to charge, but are more expensive. Ironically, they are sensitive to high temperatures.
Lithium Iron Phosphate (LiFePO4) – These are the safest type of lithium batteries. They have a longer lifespan and maintain a consistent performance throughout their life, but they're the most expensive option.
Lead Acid – These are the least expensive type of batteries. They deplete quicker than other batteries as they only run at approximately have of their Amp Hours (AH) dues to discharge depletion. They're heavy and have a shorter lifespan compared to other types.
The capacity of a battery is measured in watt-hours (Wh) or ampere-hours (Ah). More capacity means the generator can power your devices for a longer time.
Charge Controller
The battery's ability to receive electricity absorbed by the solar panels is controlled by the charge controller. It effectively stops the battery form being constantly over charged, which will diminish its shelf life at a much faster rate than naturally occurs. Without it your batteries life span will ramp up at warp speed, not something you want from an alternative, expensive power source.
The two main types of charge controllers are PWM (Pulse Width Modulation) and MPPT (Maximum Power Point Tracking). MPPT controllers are more efficient and allow for greater power transfer, but they're also more expensive.
Inverter
The inverter converts the DC (Direct Current) power stored in the battery into AC (Alternating Current) power, which is what most appliances use. Inverters have a power rating measured in watts. A higher power rating means the inverter can handle more power, allowing you to run more or larger appliances. Some solar generators also have a pure sine wave inverter, which provides a smoother and more consistent flow of electricity, making it better for sensitive electronics.
Ports and Outlets
Most solar generators have a variety of ports and outlets to connect your devices, including AC outlets, USB ports, and DC ports. The number and type of ports and outlets will determine what devices you can power with the generator.
Charge Cycles Explained
Picture your solar generator as having a power reservoir, with a capacity of in case of the Ecoflow above of 1260Wh (Watt hours). This reservoir is the energy you have available to operate various devices in your RV.
Once the reservoir runs dry, you need to replenish it, either using solar power or traditional electricity. This process of refilling from zero to full is known as one "charge cycle".
Over time, after going through numerous charge cycles, the battery's efficiency begins to decrease. This won't happen abruptly, but rather gradually. You might start noticing your solar generator doesn't hold as much power as it used to or doesn't last as long as it once did.
SO I'm with Bluetti above, when you're in the market for a solar generator for your RV, aim to find one with a high number of charge cycles, ideally at least 2000. The more charge cycles it has, the longer it will serve you reliably.
Additional Features Many solar generators also have additional features such as a built-in flashlight, an LCD display to monitor power usage and battery level, and the ability to be charged from different sources such as a wall outlet or a car's 12V socket. Some advanced models also come with Wi-Fi connectivity and smartphone apps for remote monitoring and control.
Sign Off
In conclusion, solar generators offer a promising alternative to traditional power sources. They're portable, quiet, and can be recharged using renewable solar energy, making them ideal for off-grid living. They're also perfect for RV adventurers who don't want to compromise on modern comforts while exploring the great outdoors.
But remember, not all solar generators are created equal.
Consider your power needs, how frequently you'll be using the generator, and your budget before making a decision. Happy RVing!